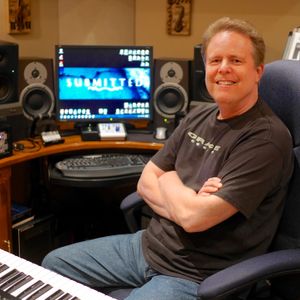 Eric Sohlgren has had a passion for music since an early age. He took up the clarinet in elementary school and saxophone in junior high, going on to perform in symphonic, jazz and rock ensembles through college. He toured Eastern Washington and Southern California with a seven-piece jazz rock group before pursuing other careers, which left his musical gifts dormant for many years.

In the late 1990s, the sound engineer at Sohlgren's church asked him to play the sax solo on a worship song during a special church service. After struggling to relearn the saxophone, he was later invited to join the worship team and since then has been playing saxophones, clarinet and whistles at contemporary and traditional services. 

Since most worship music is not arranged for woodwinds, Sohlgren began composing parts to play. He then began writing worship music as an offering to God during some difficult times in his life, finding solace and comfort in prayers set to music. He continued to write as he was inspired by scripture and his life's journey.

Now a producer, engineer, composer and gifted musician, Sohlgren's artistic vision has been to bridge traditional and contemporary styles of worship music with diverse instrumentation, rich arrangements, and spiritually engaging words to bring peace, comfort and healing to God's people. He has collaborated with gifted poets who bring the depth and wisdom of their decades-long spiritual journeys to their words.
The son of a minister, John Andrew Schreiner began picking out tunes on the piano at age three and by his early teen years was regularly playing keyboards at his father's church. Since then he has gone on to build an impressive career as a musician, composer, arranger and producer, including collaborations with numerous Christian and mainstream artists.  

Schreiner has produced and arranged projects and songs for many well-known Christian artists, including Fernando Ortega, Bryan Duncan, Marie Barnett, Carman and Crystal Lewis. He has also played and arranged music for CeCe Winans, Amy Grant, Michael W. Smith, Third Day, and many more. Schreiner has produced or written seven number one songs on Inspirational Radio, winning the 2001 ASCAP Christian Music Award for "This Good Day." Schreiner's work producing, arranging and playing for many world-renowned mainstream artists is equally impressive. His talents have been expressed in television and film, and in 2010 he won an Emmy Award for composition.

Schreiner has dedicated his career to discovering, nurturing and creating music that authentically expresses faith without regard to prevailing fads. He has a heart for worshipful and engaging music that brings comfort to hurting people.
David DeRaita is a gifted vocalist, pianist, composer, and worship leader.  DeRaita toured professionally with TuneSmith, a Santa Barbara-based group, for 12 years. He has 30 years of experience as a musician at Vineyard churches and The Gate Christian Bible Church in Mission Viejo, California.  
David's beautiful and soulful baritone voice, often compared to Lou Rawls, is a perfect fit for his songs that draw influences from modern and traditional worship music, jazz, blues, and country gospel. On top of his musical gifts, David is a genuine and kind person with a witty sense of humor.